VCDR Architecture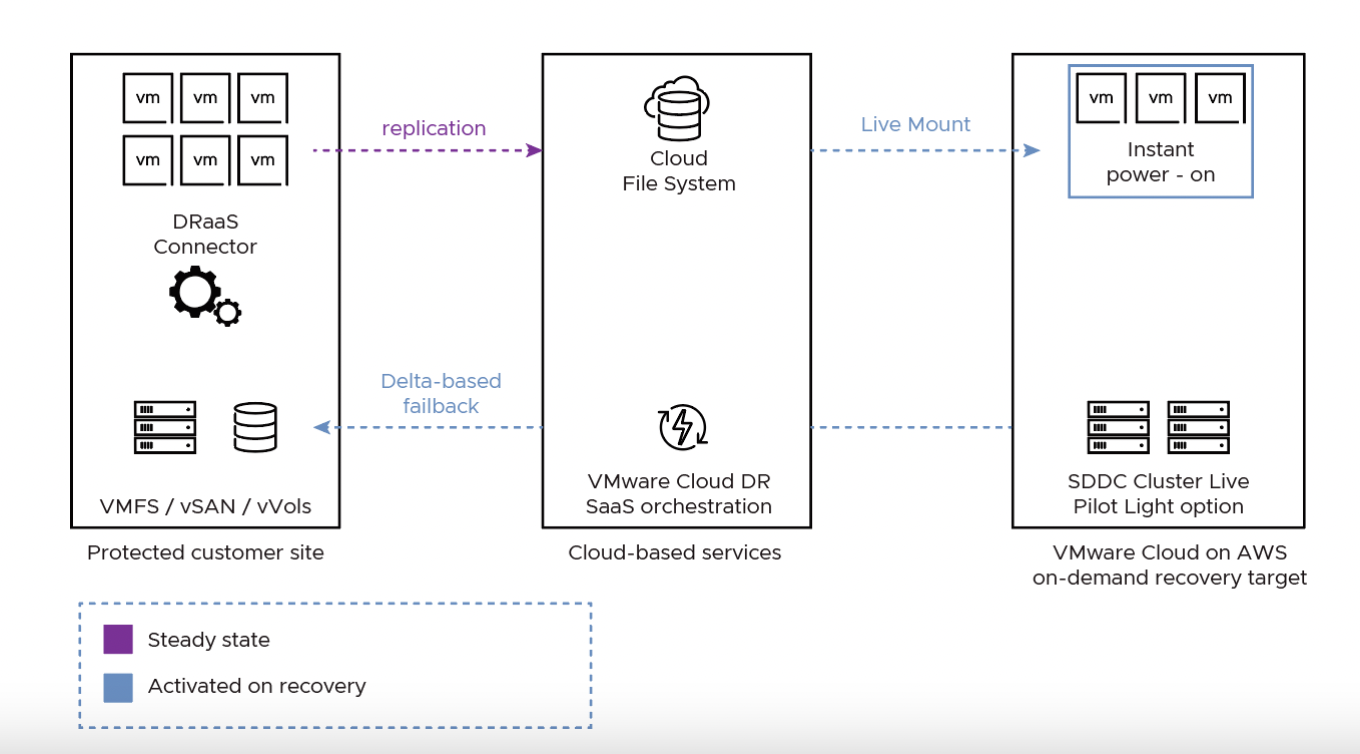 Service Components
Component

Main Capabilities

Cloud File System

Stores VM backups.

Can be mounted as an NFS datastore and recover VMs quickly (Live Mount).

SaaS Orchestrator

Provides UI for VCDR Service.

Coordinates with SDDC to failover VMs.

Coordinates with DRaaS Connector to failback VMs.

DRaaS Connector

Takes snapshots of protected VMs and sends the data to the Cloud file system.

Coordinates with SaaS Orchestrator to failback VMs.

Protection Groups

Recovery Plans

Recovery Plans are like an automated run book, controlling all the steps in the recovery process.
Live Mount
When to use Live Mount?
Cloud file system
Backups: Backups are encrypted and stored in the native vSphere VM format in Scale-out Cloud File System (SCFS)
Live mount: ESX hosts in VMC can boot VMs directly from snapshots stored in the Cloud File System. It acts as an NFS Datastore.
DRaaS Connector
​​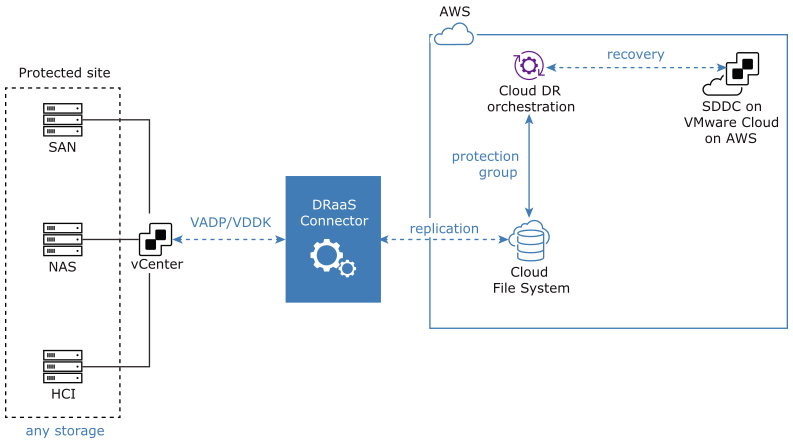 Protection Groups
Protected site
VMs
Policies for snapshots ( Protection Schedules)

Snapshot frequency
Snapshot retention period

Cloud file system
Reference:
Recovery Plans
Recovery Site
Resource Mappings

vCenter
Folders
Compute Resources
Virtual Networks

Recovery Steps

Recover what VMs / Protection groups
Power action
IP Customization
Pre-Recover action for each VM
Post-Recover action for each VM
References
https://vmc.techzone.vmware.com/resource/introduction-vmware-cloud-disaster-recovery-vcdr
https://core.vmware.com/resource/vmware-cloud-disaster-recovery-technical-overview#sec18005-sub2